How long have you been in business?
Professional Communications Messaging Service, Inc. has been in business since 1962. Still under the same management, we are one of the oldest and most experienced answering services in the country.
All of our operations are based out of our corporate headquarters in Erie, PA. Your calls will be answered domestically and will never be sent overseas.
What are the terms of your contracts?
Our contracts run on a month-to-month basis. There are no long term commitments or termination fees. And because it's month to month, so is our billing cycle. Unlike some companies who bill every 28 days, 13 times a year, we bill you 12 times a year.
We are in a hurry to get up and running, how long will it take to get our customized answering service set up?
Most accounts can be set up in 24 hours or less. Only a few simple forms are required to get things up and running.
How are my callers going to reach your operators?
We'll assign you a phone number, either a toll-free or toll number, that is exclusive to you.  Whenever you need us to answer, that's all you have to do is call forward your phone line(s) over to us. You can also advertise, or give out the number we assign, and callers can dial the number direct.
Can you use our existing online system to log caller data in our system?
Definitely!  Our operators work on a dual monitor system that is connected to high speed internet.  As we have your system up on one screen, the other screen provides step by step instructions on how to navigate your system.  This allows us to use any type of ticketing system, or CRM.
I'm just starting a new business so my call volume will be low. Do you have requirements on how large my company has to be?
Whether your company has one employee or thousands, we can set up a custom service package that satisfies your needs, as well as the needs of your customers.
I'm not sure what my call volume is, or will be. Am I going to be stuck paying huge overage fees?
We understand this, and rather than penalizing you, for doing more business, we will monitor your usage monthly, and if need be can adjust your account and place you at a more cost effective pricing plan. That is our Best Rate Guarantee!
Can you work with multiple on-call personnel, and custom criteria depending on the call type and time of day?
Yes! We will customize your account to get the right information to the right people at the right time.
Will we have to pay extra for a large number of on call employees?
No. We do not have any surcharges or extra fees for the number of on call employees, doctors, etc.
Can you send messages to lists of people over different mediums?
Sure, we can customize your notifications at the time we set up your account, and we can update it as needed if your business changes or grows. For example: Call the maintenance tech, text the supervisor and email a recap to the manager.
I need for you to answer when I'm not available, will I be charged for after-hours, weekends, or holidays?
Absolutely not! Our pricing is for service 24/7/365.
I am out of state, does this make a difference?
No, it doesn't! Once your calls are forwarded to us, and we answer, all of your scripting appears right on the operator's screen. We know exactly how to answer, what information to take, and what to do with the calls. This process is seamless to the caller and they never know that we are not in your office or a thousand miles away.
When will you answer my calls?
We're here to answer all calls 24/7/365. Whenever you need us to answer, that's all you have to do is call forward your phone line(s) over to us. Whether it's after hours, the weekend, all day, or you just can't pick-up in time.
We'd like the appearance of an on-site receptionist. Can you route our calls to the correct people in our office?
Virtual office is a great way to save money. We can simulate the feel of a front office receptionist, while transferring calls to the sales department, or emailing the controller–all customized to your business.
What if I need to make changes? Is there a cost involved?
 All companies change, and we are ready to update your account when needed. There is no cost involved for most account updates, and they can be requested via phone or email!
How do I know that my data and my callers' data will be kept private?
 Professional Communications is HIPAA compliant, secured and bonded.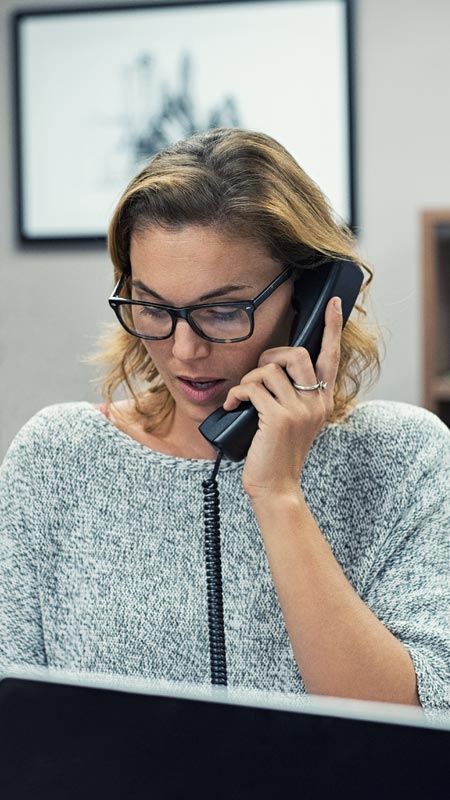 Affordable customized answering services
Our answering services are not only affordable and reliable, but have also been nationally recognized as being the most innovative and technologically advanced, U.S.based customer call center service available today.